Wonderful Journey
Before I begin with my review for all the knowledge I have gained, I want to share my background. Me and my family met with a terrible accident in 2010. The impacts of which were both physical and mental. My mother, Nalini Naik got us out of it through strong will power, medicines, yoga, and reiki. Despite of being bedridden for almost a year and having a serious injury to my spinal cord, I am still able to walk around and live a normal life.
I owe a lot of credit for this to my bond with yoga ever since I was a youngster. It strengthens not just the body but also the mind and soul.
Jagdish sir has been one remarkable influence on me. His inspiring words about being impactful and not just any ordinary person are very motivating. He speaks a lot about self search, difference between hearing and listening, how one should present themselves in the competitive world to succeed on a complete level have added a lot of positivity in my life.
I agree with him that we all should feel lucky to be a part of this organization that has such a rich and inspiring syllabus.
Manoj sir has been a very practical and effective mentor. His way of teaching involved a lot of interactive sessions in which we would come up with different answers to collectively build an answer to his questions. He has effectively explained the importance of Suryanamaskar to cope up with the deficiency and changes that happen in a females after 40s. From the perspective of the youth and the working class, he recommends certain asanas that will help make a positive impact and have a healthy lifestyle.
Pandey sir's meditation sessions have provided us with a different edge. One can do asanas for the fitness of the body but meditation strengthens and brings peace to the mind. Sir's knowledge on the Mandukya Upanishads; states of dream, being awake, sleep, and self-transcendence and has greatly helped us understand the mystical part of yoga.
A big thanks to all the instructors at the institute for providing step-by-step guidance to all students. All the shared training material and training is so lucid and impactful that it will help us achieve good results in the future. The training is in a very thoughtful and systematic form which makes it easy to grasp.
I used to be associated with this institute when I was younger. It feels good to be associated again. I may not get any younger but yoga that I have learnt will help me preserve my youthfulness for long enough.
A small request, if I may. Please see to it that the room is ventilated properly. We were unable to understand clearly at times as the sound used to rebound.
Thanks for everything!
Experience of Certified Course in Dynamic Energizing Power Yoga.
I have joined the Dynamic Energizing Power Yoga, of Swami Vivekananda Yoga Kendra, of 2019 batch. This program is designed not only to help us to learn asanas, but also helps us to prepare ourselves to teach yoga for peace and harmony. It has been well designed and well executed by Dr. Jagdish Naik, coordinator of VYASA center, Navi Mumbai and his team.
                I have voluntarily chosen to do this course and have highly benefitted from it. Dynamic Energizing Power Yoga is an advance form of Ashtanga Yoga. During this course, Shri. Manoj sir taught us many types of asanas, Suryanamaskar, joint loosening exercises, warm up exercises, tummy workouts, cardiac exercises, balancing asanas, etc. I came to know that these workouts help us to strengthen the bones, flexibility of joints, muscle toning, improved concentration. It also burns a lot of calories, improves the lung capacity and stamina. He also taught us about the correct posture to be used for Suryanamaskar which helped me personally to get relief from back pain.
              Dr. Jagdish Naik sir, taught us about diet and corporate yoga which is very beneficial for overall health of corporates, who face many challenging situations resulting in stress and other health related problems like obesity, spondylitis, thyroid, B. P., etc.
               Shri Mangesh sir, taught us cyclic meditation which rejuvenates, brings calmness and distresses the entire body. This was something new that we learnt which was simply marvelous.
               As there was something new to learn every time, we did not realize how the sessions passed by, and I thank the entire faculty for giving us an opportunity to learn something new which is of immense help for self and others who would practice the same.
Vrinda Bhagvath
A LIFELONG ATTACHMENT IN LESS TIME ❤️SVY
Learning & Growing with Swami Vivekananda Yoga Kendra, Navi Mumbai has been amazing. The best part of the Power Yoga Course is that it did not make me to byheart chapters from books, instead it is an experience. The Teachers are very dedicated, humble & always ready to help the students.The Practicals (Asanaas, Pranayams, etc) taught by Manoj Sir are learn with fun. He taught systematically, step by step & made it easy to understand. He took repetitions to assure we learnt it well.Mangesh Pandey Sir's Cyclic Meditation class was out of the world experience.Jagdish Sir trained us for Corporates by training us in Chair Yoga & giving tips assuring that we are ready to take sessions. I would like to continue my journey of Yog with such a wonderful team 💐
My eventful journey with S-Vyasa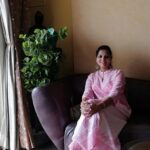 My journey was filled with rich learning experience.
I joined Power Yoga without knowing exactly what to expect. After completion of Teacher training course elsewhere and starting a few Yoga classes I had good Yoga base thus was ready to get more indept Yoga knowledge. Learning always has a start date and it doesn't come with a end date as it is a continuous process.
Here we came to know the real meaning of "Power Yoga" which helped to eradicate any misconceptions about power yoga the students might have. It was very tough journey for me initially but under the able guidance of Manoj sir, Jagdish Sir, Mangesh Sir and Vijaya Mam it became very knowledgeable and exciting. The focus here is on right technique for stretching and correct breathing pattern. As a yoga teacher I used to do only traditional Asanas but after joining this course I came to know about how to practice Asanas alongwith technically correct way of stretching, controlled breathing and holding your Asanas to get the best out of Power Yoga.
The wonderful inputs given by Jagdish sir regarding Corporate yoga were like icing on the cake.
How to approach corporates, way to understand their requirements in detail in order to design the session and many other fine points have helped us during this journey.
The knowledge on cyclic meditation by Manoj sir gave us a new dimension on Meditation and helped me personally as an Yoga Teacher
This course has benefited me immensely and hope I am able to influence many others to enrich their lives with the correct way of doing Yoga.
Sarika Phadnis
Take Yoga as way for Life
Hello, I am Prerna Banga, a yoga teacher. Learning Power Yoga, from Swami Vivekananda Yoga Kendra Navi Mumbai, was one of the best decision I took in a way of yoga learning.Power Yoga, Corporate Yoga, also the concept of meditation are the main concepts of my learning here. The teachers has great knowledge of Yoga and also they are very approachable to help or clear any of my small doubt.
The guidance by Jagdish Sir regarding how to take the class, clear basics of Yoga and their application in life, is really useful.
Manoj Sir is one of the finest teachers I have come across. The posture correction and way of teaching is fabulous. With Manoj Sir, my urge for learning has increased even more and also the confidence to learn difficult asanas.
Mangesh Sir has beautifully described and made us experience the concept of Cyclic Meditation.
The overall learning has helped me to enhance my learning of Yoga and for sure it is helping me to train my trainees in a better way and make them understand the value of good health. I would like to thank all the teachers for conducting such courses and spreading the awareness of Yoga in such a beautiful way. Thank you Jagdish Sir and Manoj Sir for teaching us the true and practical Concept of Power Yoga.
Thank you,
Prerna
Power Yoga Course – Outstanding learning experience
It has been a very nice experience to be a student of this power yoga class organised by Swami Vivekananda Yoga Kendra,Navimumbai.Getting knowledge from teacher like Dr Jagdish Naik and Manoj Mehta sir is really a great opportunity for me. Initially I had misconception regarding any form of yoga other than the conventional Yoga. But, after joining this class I started to realize how conventional Yoga can be extended to the next level to increase the strength of the body and muscle and modernising without changing the core. This is what Power Yoga is and more I continued with the classes more I fell in love with it.
From the sessions the biggest gain for me are my body balance, strength in mind that nothing is impossible if proper effort and guidance provide, Cyclic Meditation techniques which has helped immensely in my development and my will power to learn more about Yoga and take it further.
During the sessions we're also taught about relevant topics like corporate Yoga and quick asana sitting on a chair. These have absolute importance in modern day corporate sedentary lifestyle of long sitting with bad postures.
This course also taught us how to take classes for individual and groups. Overall it has made us more complete and versatile Yoga practitioner as well as teacher.
At last I would also like to thank all my teachers for the effort and dedication they have put on us to push us and make us believe on ourselves to reach where we are now.
Life changing courses
I had undergone YIC and DEP courses and they are beautifully designed to experience a transformation .
My trainers were experts in their field of teaching and the knowledge they share commendable .
YIC life changing experience
Mala swami vivekananda yoga kendra madhun khoop kahi shikayla milala.Tya mule majhya ayushyat khoop kahi badal jhalele ahet.Mala yoga baddal jasta kahi mahit navhta,yoga mahanje vyayam kiva sharirachi charbi kami karne pan hya course mule mala yoga baddal deep mahiti kalali.Hya sarvyache shreya mi Dr. Jagdish Naik siranna dete.YIC mule mala streams of yoga baddal khoop sari mahiti milali.Bhakti mahanje fakt pooja karne he mala mahit hota pan bhakti mahanje true love,emotional culture,saglyat devacha vass ahe he mala hya course mule kalale.Mangesh sirani shikavlele veda,upanishad.Manoj sirani ghetlele perfect asanas,Rajani didi hyanni shikavlele shlokas,Raju siranni ghetlele shuddhi kriya,Asha ma'am ni sopya paddhatit shikavleli anatomy,Vijaya ma'am ni kelele sahkarya mi hyancha manapurvak aabhar manate.Velo veli majhya chuka shudharat siranni dilele mala protsahan ani tya shudharat mi khoop kahi shikat geli.Majhya barobar mala majya gharchya lokan madhe hi zhalele badal disun ale specially majhya muli til badal.Mala he jyan dilya baddal mi majhya sarva gurunche manapasun abhaar mante tasech majya course madhil sarva maitrininche hi abhaar mante jyanni mala nehmich support kela.Thank you
YIC a wonderful journey..
YIC course was a great and different experience.With minimum knowledge of yoga wanted to learn and explore more about it,that was the reason i joined this course.The teaching was very different,unique and interactive.All the teachers here are highly knowlegable and take extra effort to make each and everyone understand what is taught.The syllabus is carefully made and covers everything about yoga which is important for us to know.The course made me understand about myself,why yoga is important for everyone,the positive impact,about prana,breathing,our body and how it functions.The course is intense but fun at the same time.It is also strict and well disciplined which is very important.The trip to Kaivalyadham,Lonavla was a great and new experience.The lecture conducted there was very beneficial.Presentation of report writing there boosted our confidence and took out the fear of facing the crowd.At last,I would thank all the teachers Manoj sir,Mangesh sir,Jagdish sir,Vijaya ma'am,Rajani didi,Raju sir and Asha ma'am for all the valuable knowledge they shared and for the amazing teaching.I would definitely recommend this course to those who wish to get into yoga for the betterment of themselves or for others.
Thank you and god bless.
YIC Batch-Jan 2019
YIC-The Quest begins….
The YIC-Yoga Instructors Course (from Vyasa-Swami Vivekananda Yoga Kendra-Navi Mumbai) was a wonderful way for me to explore and experience yoga, meditation, mantra and mostly emerge at the present moment fully activated and at peace with my body and mind.
The course has given me a good background knowledge of theory, philosophy, breathing awareness, kriyas and many more aspects which I was always curious to know. All the teachers were masters in their art and very supportive but no doubt very strict also at times regarding punctuality, discipline etc. There were times when due to various other responsibilities and commitments I felt like quitting but the urge and the Quest had already begun…. as something new was taught everytime I attended the lecture-this helped me synchronize with the journey smoothly.
The journey to yoga has taught me that true yoga is not performed but it has to be lived. Doing YIC from Vyasa is a privilege – my gratitude to all my respective teachers and friends who were supportive throughout the course.
MY journey of yoga through Y.I.C
Philosophical part done in Y.I.C was a good experience as I got to know about Upanishads,Vedas etc. Practicing asanas with breathing pattern was a new concept for me.Asanas,Suryanamaskar taught here are excellent with deep explaination. Bhajans,mantra chanting conducted here gave me an opportunity to recite sanskrit more prominently by understanding the rhythm and its meaning effectively.The teaching pattern of gurukul system is followed which gives scope of clearing doubts and learning more efficiently.
It's an excellent course nicely designed by SVYASA bengaluru for beginners.I highly recommend this course for enthusiastic yoga learners.
Anuradha Khandelwal
Experience of Yoga Instructor Course conducted at VYASA center, Navi Mumbai
I feel extremely happy and privileged to admit that the YIC course conducted at the VYASA center of Navi Mumbai is excellent in all aspects. It has been well designed by SVYASA Bengaluru and well executed by Dr.Jagdish Naik, Coordinator of VYASA center, Navi Mumbai and his team. It has given me deep insights into many things including the four paths of Yoga, Yoga philosophy, Surya namaskar, Asanas using 8 step method in all four postures (sitting, standing, supine and prone), Sectional breathing, Pranayama, , Omkar meditation, Cyclical meditation etc. Every topic has been handled nicely and adequately by trained expert faculties. Practical aspect was also covered in details by Manoj Sir to build confidence amongst the students. Kriya sessions were also well conducted. Visit to Kaivalyadhama, Lonavala was extremely enriching in terms of learning in depth aspects about Yoga, working as a team and understanding the expertise and functioning of the institute. Presenting the research report at Kaivalyadhama in front of expert faculties was a unique experience.
It is an extremely good course for beginners in Yogabhyas. All the faculties take extra efforts and interest to give more and more in-depth knowledge to the students. I strongly recommend it to all those who want to take a plunge in the vast ocean of this interesting ancient experiential science of Yoga. It will certainly help them prepare a strong foundation in Yoga.
Wishing Jagdish Sir and his team all the best for future endeavors!
My YIC
Experience of YIC at Swami Vivekananada Yoga Kendra Navi Mumbai.
Whenever I had heard about Yoga, my interpretation was that it is Asana
& breathing exercises for personal health. When I started doing Yoga I realised
that it's not only asana & pranayam ,but it's a eight limbed path which takes one
to self realization. It was learnt in my YIC at Navi Mumbai.
In YIC, I learnt that, Yoga comprises of four parts mainly Raja yoga,
Dnyanyoga, Bhaktiyoga & Karmayoga.Most of us were aware about Raja yoga
as Yoga. I realised Yoga is not only flexibility of body but it teaches you to be
flexible & accommodative in thoughts.
The theory part was really very vast but it was explained in simple and
easy way with all its relevance in day to day life .It was made very interesting
by giving suitable examples. The flow of lecture was too good, which always
created eagerness to learn more n more.
Similarly the yogic practices were done in a wonderful way. Every time we
were doing the practices we were learning something new about it. It was
always felt desire to learn lot more, created thirst for learning a new dimension
about the asana, feel & understand the effect of asana on body part,
experiencing the breathing happening, the differences in different type og
breathing and many more.
Cyclic Meditation was the best part of YIC. It was so relaxing, rejuvenating,
refreshing & truly concentrative. The flow of it was superb, it made more
attentive & alert. Also, the chanting has improved our dialect; it made us get
engrossed in it. All prayers have created an impact after learning it with its
meaning, developed an interest in learning Sanskrit to know it better.
The feather in the cap was the visit to Kaivalyadhama, Lonavala. It was an
the enriching experience overall. This course made me understand that we should
always have an eagerness to learn, whatever we do in life do it as a Karmayogi,
love yourself as Rajyogi, Surrender yourself to that Supreme & all this will
make you truly Yogi.
I am grateful to all the faculties from the bottom of my heart. I would surely
recommend this course in future for its strong fundamentals & conduct of the
course. It made us aware of Swami Vivekanand's dream & vision.
It is my pleasure to talk about Kriya.
Hi sir
It is my pleasure to talk about Kriya. It is well organised with expert teachers like Bhandari sir and supported by Nagesh sir,Vijaya mam. July 2017 batch we have been motivated to learn kriya with easy technique thought by you all. Due to this Kriya exam went well and also about ShankaPrakashalana if I Would say more than a totally fresh natural healing day. In a 3 months time i was wonder of your arrangement of teaching techniques. I thank you for all the arrangement from entire our July 2017 batch. Have a healthy life keep blessing batches like this forever.
God bless you
Regards
MylaraSwamy KS AND JULY 2017 BATCH.